Recent Posts

Archives

Blogroll

Posts by Author

Blog Stats
All posts in category Holidays
As a grandchild of Irish immigrants and being 100% Irish, I LOVE St. Patrick's Day more than any other day of the year! I grew up outside of New York City with my Irish family so I would always be allowed to skip school on March 17 and head into NYC to march in the big parade! It was always the best time, getting to be with my family and celebrating our heritage and of course finishing the whole day off with a glorious Irish meal of Corned Beef and Cabbage! But, finding green to wear was always troublesome, so here are some of the best St. Patrick's Day outfit ideas!
J. Crew Factory
J. Crew Factory
J. Crew Factory
J. Crew Factory
Express
Sláinte! Erin Go Bragh!
XOXO,
Caroline
Posted by crk293 on March 17, 2013
http://theprepcrew.wordpress.com/2013/03/17/st-patricks-day/
Happy Valentine's Day to all of our readers!  I hope you have a great day (even if you are just looking forward to the half-price candy tomorrow!  I know I am!)
xoxo,
Rebecca
Posted by rebeccamill on February 14, 2013
http://theprepcrew.wordpress.com/2013/02/14/2254/
I've been watching a lot of Parks and Recreation lately (seriously, you should check it out on Netflix!), and one thing that I really love is "Galentine's Day". For those of you not in the know, Galentine's Day was created by the show's main character, Leslie Knope, to celebrate all of the great ladies in her life. It's celebrated on February 13th, and is an awesome excuse to tell all of your girlfriends why you love them.
Here are some ideas to help you celebrate with friends:
Treat your best friend to her favorite latte

Have an all girls pajama party and rent chick flicks from RedBox
Bake cookies!
Write a letter to your best lady friends telling them how much you appreciate them
Get them a new bottle of nail polish you know they'll love
Host a cocktail night
Today I am definitely going to be spreading the love to all of the great women in my life!
xoxo, Karoline
Posted by karolinez on February 13, 2013
http://theprepcrew.wordpress.com/2013/02/13/2269/
Because my birthday is so close to Valentines Day (and I tend to celebrate Birthday month…) I skip right over Single's Awareness (because let's face it – I go to a womens' college) and continue the birthday bash!  My birthday this year is on a Monday (the 11th!) so I'm planning on celebrating mostly the weekend before and then putting the celebrating on hold until SPRING BREAK (yes, like two months later) until I'll see my parents again!
Now it's my 20th birthday, so no wild parties with my first alcoholic purchases.  But it's a perfectly great reason to have tons of fun with my friends?  Yes?
So Friday night (the 8th), I'm signed up to go skiing with the Outdoor Program at my school!  A few of my friends are coming and it should be a great night out on the slopes.  I went last weekend and it was super fun!
Saturday night, my friends are taking me out to dinner!  We haven't decided where we're going yet…but we have two favorite restaurants so I'm sure it will be one of those!
Sunday will be filled with homework and any other things that need to get done…not so fun.
But don't fear!  Because on the big day, Monday, I'll be promptly awoken at 6:43 am (the time of my birthday) by my bestfriend who is all the way in New York City.  This is a little tradition we've had since my tenth grade (and her eleventh grade) year.  We went to boarding school and the night before my 16th birthday I slept in her room.  She woke me up at 6:43 with a card that sang High School Musical…some things never change!
 I don't know what else my big day has in store for me, but as long as I'm surrounded by my friends (and by my family from a distance), I'm sure it will be great!
How do you celebrate your birthday?
xoxo,
Rebecca
Posted by rebeccamill on February 7, 2013
http://theprepcrew.wordpress.com/2013/02/07/birthday-bash/
Okay, so I am all for spoiling the ones we love on Valentine's Day, but if you're a college student, like me, you're probably not made of money. I like to keep an eye out for deals and sales as much as the next person; here are a few of my tips on how to save money this Valentine's Day:
1. Decorations. Are you hosting a Valentine's Day party or looking to make your dorm room a little more festive? A lot of people overlook stopping by Dollar Stores when it comes to buying decorations. You can get a lot of awesome decor (from themed table cloths, plates, and centerpieces, to window decals, bathroom hand towels, and plastic Champagne flutes) for very little cash! Check out other local vendors after Valentine's Day is over, and you might be able to find some cool items on sale to decorate with next year.
2. Gifts. When it comes to Valentine's Day gifts, it really is the thought and effort that counts. Valentine's Day is a day to show your special someone how much you love and appreciate them…not how much money you can drop on a fancy piece of jewelry. In my opinion, a great Valentine's Day gift would be something handmade! Pair your gift with a sentimental card and you're good to go!
3. Dinner. You know what is just as romantic as getting dressed up and going out on a Valentine's Day dinner date? Cooking your sweetie's favorite meal, getting dressed up and staying in to eat. Now I know that might seem like a lot of work, but hear me out! By staying in you get to create the perfect atmosphere for your at-home date: set the scene with candles, that special occasion dish set, and your favorite music. Plus, you will save money and avoid the Valentine's Day rush at restaurants.
4. Flowers. Women love to get flowers…especially on Valentine's Day. While roses and Valentine's Day pretty much go hand in hand, a bouquet of red roses can be pretty pricy! If you plan on getting your Valentine flowers, find out what specific kind she likes. Maybe she prefers a cheaper type of flower or even a potted plant!
XO, Christine
Posted by christineegarabedian on February 5, 2013
http://theprepcrew.wordpress.com/2013/02/05/save-this-valentines-day/
I'll be honest, Valentine's Day is not one of my favorite holidays, but I do love hearts on everything. Who doesn't love pink, red, and heart-covered clothes, shoes, and accessories? And besides that, there is literally candy everywhere you turn, dangerous but also delicious. On that note, I have been browsing around for some really cute stuff with a Valentine's motif that are perfect for February but are not too overwhelming for every other time of year as well.
Jewelry
C. Wonder Hearts Aflutter Cuff Bracelet- Adorable for any time of year and definitely an eye-catcher!
Kate Spade Be Mine Studs- These studs are the perfect neutral earrings to wear whenever but are even better for Valentine's Day. They also come in silver and gold!
Sweaters
J. Crew Heartbreaker Sweater- Black and white are big for Spring and this sweater is perfect for these chilly but not freezing days.
J. Crew Factory classic crewneck cardigan in hearts- This is definitely more of a February sweater but I think if you pair it with a neutral shirt and skinny jeans, it could definitely transition into Spring as well.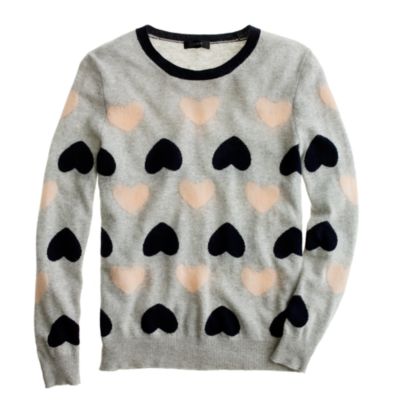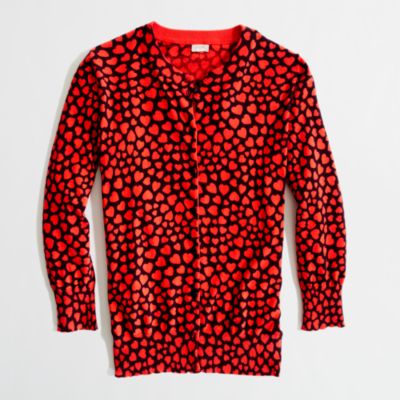 C. Wonder Embroidered Heart Velvet Slipper Loafer- These loafers are perfect for Spring and I love that the black and red is neutral enough to wear with any outfit, but still stand out and make a statement.
Forever 21 Metal Heart Flats- I am obsessed with these flats and it is definitely possible that they will be added to my closet ASAP. They come in black, tan, and red, and at under $25 how can you resist?
Dresses
Old Navy Women's Crepe Dresses in Hearts- This dress is super affordable and perfect to wear out for Valentine's Day with your special someone or just for hanging out with you best friends.
Topshop Heart Print Skater Dress- So cute for Valentine's Day or just a night out on the town. Love!
I hope this makes shopping for Valentine's Day just a little bit easier for everyone. Good luck and let us know what you pick out!
xoxo,
kBp
Posted by whalesandwayfarers on February 4, 2013
http://theprepcrew.wordpress.com/2013/02/04/valentines-day-style/
Like I said last week, Valentine's Day is my favorite holiday to decorate for. But, the decorations don't stop with your home and your phone, you can also dress for the occasion! I'm a sucker for all things pink and/or red, so these are some of my favorite looks of the year. I put together looks for three separate occasions you might have going on!
Class time: Sweater, tank top, jeans, tote, shoes.
Date night: Earrings, blazer, tee shirt, skirt, bracelet, shoes.
Posted by karolinez on January 30, 2013
http://theprepcrew.wordpress.com/2013/01/30/three-valentines-outfits/