After I wore a hole in the bottom of my large Longchamp, I've been on a search for a new bag for school (can you tell my mind is on school starting back!?).  I started looking seriously a couple weeks ago, and I swear I went through every single brown leather tote bag I could find on the Internet!  I needed something that would be appropriate to take to class, work and my internship – and would fit my 15-inch MacBook Pro, planner, books and notebooks!  Needless to say, this was not an easy search…I've looked at enough bags for one lifetime, I think.  But after nitpicking literally every single one of them, I'm going to share with you my top picks (and the one I eventually bought) and the pros and cons of each.
The Legacy Tanner Tote from Coach was my top choice for a really long time.  When I first saw it online, I actually really disliked it – then saw it in the store and fell in love.  Online, I thought it was monstrously big, and in person, I thought it was the perfect size!  I love that this bag is professional looking, but casual enough to be able to use around campus.  My only problems with this bag was the price ($500!!) and the fact that the kind of leather would show imperfections pretty easily – but the price was ultimately what made me look for other options.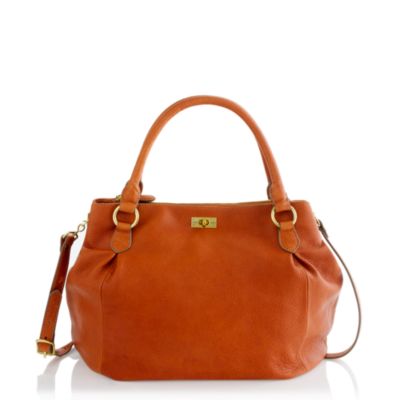 The Collection Brompton Hobo from J.Crew is a little bit more laid back than the Coach bag – which is good or bad, depending on how you look at it.  I was looking for something with a little more structure, but with my laptop in it, the bag had a little more shape than it does in the picture.  I was really surprised my computer even fit in this bag!  There isn't a ton of space for anything else after you put a computer in – but if you don't carry much, it's a good, more reasonably priced option ($298).  One of the things that attracted me to this bag was the fact that it had a cross-body option, as well as top handles.
The entire time I was looking, I was keeping the classic Vineyard Vines tote in the back of my mind.  I was more in the market for a leather bag, but I knew if I couldn't find anything else, I could fall back on this bag – and with its inexpensive ($95), even if I ended up finding something I liked better, it would be a good piece to keep in my closet. My drawbacks on this one was that it was less appropriate to take to my internship and the canvas would show dirt really easily.
And finally the bag I ended up purchasing – the Crosby Shopper from Cole Haan!  It was kind of a stroke of fate that I found this bag.  I looked at Cole Haan's website and scrolled right on by this bag.  Then yesterday, I had a couple hours to kill and ended up at the mall, bag shopping.  I found a bag I liked at Nordstrom, left to think about it and just wandered into Cole Haan and came upon this!  This bag is seriously awesome – the shade of leather is exactly what I was looking for.  And there's so much room inside!  The salesperson opened the bag, and my jaw actually dropped.  I can fit my laptop, planner, book, sunglasses case, wallet, EVERYTHING in there, and there's still so much space left (perfect since I swear I get more stuff over the course of every day!).  At $350, it's reasonably priced for a bag I intend on using for at least two more years.
What bag do you use for class?